Summer has arrived, and so has the next Salesforce B2C Commerce Cloud release! This time we look at the January 2023 (23.1) release!
Are you interested in last month's release notes? Click here!
Migrate Deprecated Custom Jobs to Step-Based Jobs
A tool is now available to migrate your deprecated custom jobs to the step-based system. Since this needs to be activated by a support agent, I am unable to test this tool out myself (and I have no projects that need it)
Feel free to poke me on Slack with screenshots and feedback on this new tool!
Use a Unified URL for Your On-Demand Sandboxes
A new set of URLs is introduced to make it easier to access sandboxes and not think about which cluster they are part of. For example:

				
					xxxx-006.sandbox.us03.dx.commercecloud.salesforce.com
				
			

				
					xxxx-006.dx.commercecloud.salesforce.com
				
			
There is already an automatic redirect in place to make this transition easier.
Data Retention Has New Limits
I don't have much to say about this because it is a cleanup update. Making sure the platform works according to regulations, these updates are good for staying compliant.
One hundred eighty days is more than enough to see what and when replication was done in the job history.
Orders from Stored Information with Salesforce Payments
To create an order from a previous order, use the SalesforcePaymentsMgr.confirmPaymentIntent (order, paymentMethod, statementDescriptor) class and method from the B2C Commerce Script API. Data from the previous order is retrieved to create the order. No customer interaction is required.
Configure a Max-Age for HSTS
A new option for us to configure the max-age ourselves for the HSTS setting. We could already do this in the eCDN, but now we can also do this in instances without it.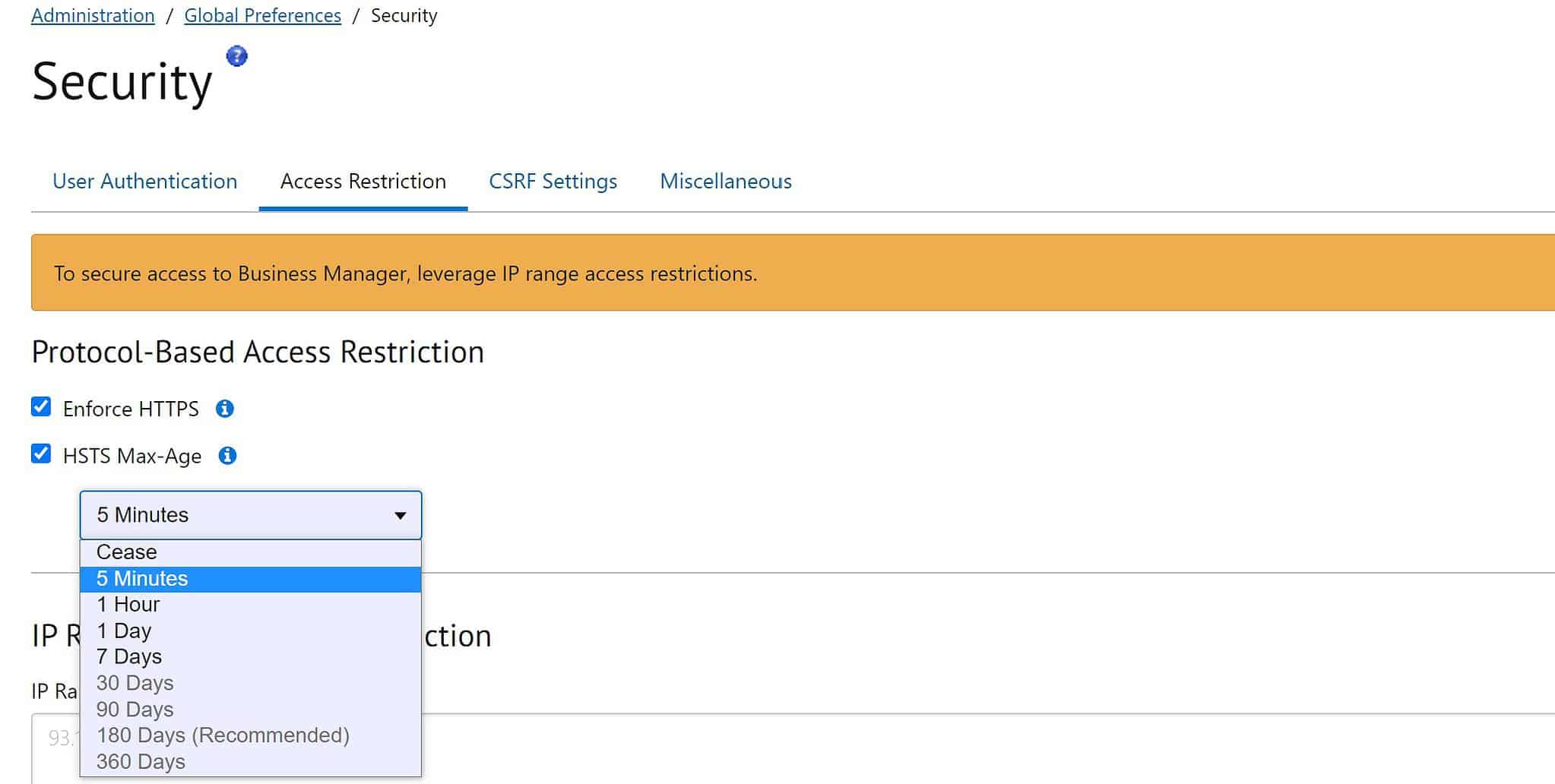 Use with care
When enabling HSTS to include subdomains, ensure that all subdomains support HSTS (also internal-only applications)!
Property Selector Key Error Identifier
This a minor update that will make sure that you don't waste hours looking in places nothing is wrong. Making a typo (in a URL) happens far too often, and a clear error message to point you in the right direction is vital.
Basket Flash Validation Update
With property selection, you can control what fields are returned by the endpoint. This saves resources and bandwidth.
You can find out more about property selection and Basket Flash in the Info Center.
Use Selectors with Expressions
Some great new ideas were submitted!
Another month, another update hits the PWA Kit with quite an extensive changelog. The "spotlight" change is that the new commerce-sdk-react library includes ready-made React hooks for fetching data from B2C Commerce.
The full release notes are available here.
In the update downtime for the past two months, some time was spent fixing reported issues!
Updated Cartridges & Tools
adds parseConfig helper to get configuration in a headless/non-CLI environment (web, testing, other tools, etc)