Note: I gave the text "20 years of Salesforce Dreamforce" to an AI to render an image. The image you see above is what it created!
Salesforce is celebrating 20 years of Dreamforce, which is quite a track record! As with all Salesforce events, it is the opportune moment to meet people, learn and have fun!
But how does Salesforce B2C Commerce Cloud fare in this large event, and what content is available? Let's have a look!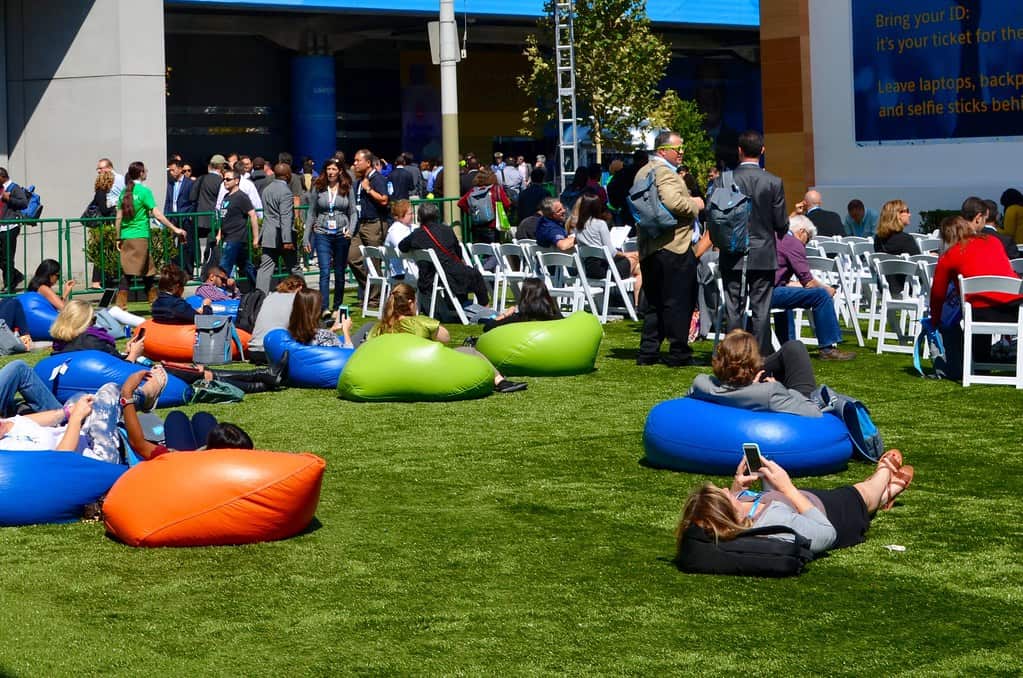 It won't be a Salesforce event if you don't meet with other people you have been "slacking" with for the past years. 
There is already a channel on the Salesforce B2C Commerce Cloud Unofficial Slack to connect!
Click here to join if you are new or here if you already have an account.
I will be there this year! It will be my first Dreamforce, and coincidently, it is my birthday on the 21st of September! Even though there is no "official" meetup on the schedule, it doesn't mean we can't get together!
Be sure to also leave a message in the Commerce Trailblazers group to make it  ✨extra special✨! 
The Commerce Cloud Lodge is a dedicated zone where Trailblazers and commerce experts across industries will come together to learn, connect, and celebrate in a creative space. Be sure to look at the map to locate it. 
Curated roundtables, workshops, and demos will be held here to light the spark of inspiration and show how Commerce Cloud can help make every transaction more profitable.
The Commerce Cloud Lodge will be a 'can't-be-missed' destination for the community. There will be a dedicated space within the Lodge for Trailblazers to meet, mingle, and even get some work done a few hours each day! Seats are limited to 16 people, but I am sure we can find ways to make it work! (I am hoping we can have a large gathering!)
Want to learn more about Dreamforce and how to connect with your peers? And even win some fun prizes* while you are at it?
Do the "Road to Dreamforce 2022" quest!
There are about 1200 sessions over three days at Dreamforce. Building a schedule will not be an easy task! And be sure your predefined schedule will be thrown in the trash when the day arrives. 
You will bump into people unexpectedly and change your pace and goals for the day on the spot! And there is nothing wrong with that.
This event should be a balance of learning, networking, and fun!
Salesforce provides a handy tool to build your schedule on the Dreamforce website.
I created a schedule in previous editions of this event post (TrailblazerDX and Connections). This time I will list the sessions that stand out or have exciting speakers! You will probably notice that I made sure to make the people active in the Salesforce Commerce Cloud community (Salesforce employees included) stand out a "little bit 😝."
For now, session length and time are not known yet. I will update the article once this information is made public.
Community Speakers
Did I miss someone? Please don't be shy and send me a message or leave a comment!
Next-Gen Commerce: Maximize Profit Your Way
The main keynote of Salesforce Commerce Cloud! No reason not to miss the main event and learn what is in store for the commerce landscape in Salesforce.
5 Best Practices for a Frictionless Checkout
Getting UX advice and learning how to improve your checkout experience is always a topic of interest!
6 Steps to a Successful Headless Commerce Implementation
Given the more prominent focus on allowing customers to go Headless on the Salesforce Commerce Cloud products, getting some tips and tricks are always helpful!
Architect's Guide to Building a Cross-Cloud Career


For me, an exciting session as I have been focussing on connecting multiple clouds within the Salesforce ecosystem. And I am pretty sure I am not alone on this!
And it is being presented by Mike King!
B2C Commerce Product Roadmap
Getting insights into the roadmap for the upcoming holiday season and social commerce is something to keep your eye on!
Who knows, I might be wearing a new fitting shirt design.
Architect's Review of Cross-Cloud Customer Data Modeling


Same as the previous session of Mike King. I am quite a large fan of sharing knowledge about cross-cloud architecture!
Especially when working with customer data, a well-architected foundation is a requirement!
Headless Unpacked: How Retailers Build API-Led Experiences
Whether or not you agree that Headless is the future, catching all the sessions related to this session is an excellent idea to keep yourself up to date on this topic!
Headless, API-first, composable, etc., have many approaches. And hearing other people's visions on these topics is always interesting.
How to Boost Ecommerce Sales with Commerce for Social


Next to headless, social commerce has gotten a lot more attention. If you are also active in the SCAPI/SLAS space in the Unofficial Slack community/webinars, you will recognize Bhagath!
Increase Conversions and Agility with Headless Commerce
Another session on headless. My gut feeling is that this presentation is about rebranding the PWA Kit to "Composable Storefront."
Serving Friction-Free Food Shopping Experiences
Learning about the particular use cases, you can run into as a food retailer is an excellent session to attend!
Winter '23 Release Readiness Live: Commerce Cloud
Another session about the roadmap, but always good to have a peak to learn what is coming in the Salesforce Commerce space!
Commerce Cloud Developer Experience


A look at developer experience! Probably the only session I have come across dedicated to developers, so a must-attend if you are one!
And the list goes on. Before this article becomes too large, I will end the list here!
Like mentioned before, there are over a 1000 sessions, so choices will have to be made!
It wouldn't be a Salesforce event if there weren't a big party! Dreamforce is no different; a fantastic night of entertainment has been planned.