In early 2023, we were notified that the Infocenter would be replaced with a supposedly more "modern" solution. While some may have looked forward to this update, others were disappointed by the news.
Were these reactions anticipated? What changes are occurring? And where can we find the relevant documentation now? Time to have a look!
The official announcement
In case you didn't catch the official announcement, I've got you covered! Check out this link, or just read my copy/paste work.
The word "locations" in the title of this section may be a concern for many people. Everything once found in a single place is now distributed among several. And the fact that this makes some veterans of SFCC nervous should come as no surprise.
Nevertheless, this will have some advantages:
Separation of concerns: when looking for technical documentation, you will not be distracted or sent to the wrong place as easily as that happens now. And visa-versa.


Included in the general help: How well this works out will depend on the quality of the search engine of Salesforce Help. However, having one location and a similar style of documentation as the rest of Salesforce is (for me) a welcome change. The fact the URLs don't contain the search query anymore is also helpful…
Although this section applies to all roles, all functional documentation has been put under the "B2C Commerce for Merchandisers and Administrators".
In this section you will find everything about how to:
Merchandise B2C Commerce Cloud
Data protection & privacy
Account Manager
Log Center (although this one is technical)
Control Center
Storefront Toolkit
….
Salesforce provides a dedicated site for developers that serves as a centralized location for all developer documentation, with the exception two things which we will address later.
Here you will find:
General development guidelines
Einstein documentation
Customer Service Center
OCAPI documentation
As with the SCAPI documentation, the OCAPI now also lives in its separated bubble from the rest of the documentation.
The Infocenter previously had documentation on features that are no longer available and outdated. Unfortunately, these documents cannot be transferred to the new system. However, they have been consolidated into a single PDF to ensure that important information is not lost.
But does it make it easy to find something if you need it? Probably not.
This movement will cause considerable friction with the Salesforce B2C Commerce Cloud developer community. The biggest question here is why it was not moved over to the developer center, to match what was done on the core platform.
Understandably, it is a huge effort to move this over – and monthly releases need more maintenance. (Although the release notes of the core platform should not be underestimated….so many pages)
An unofficial alternative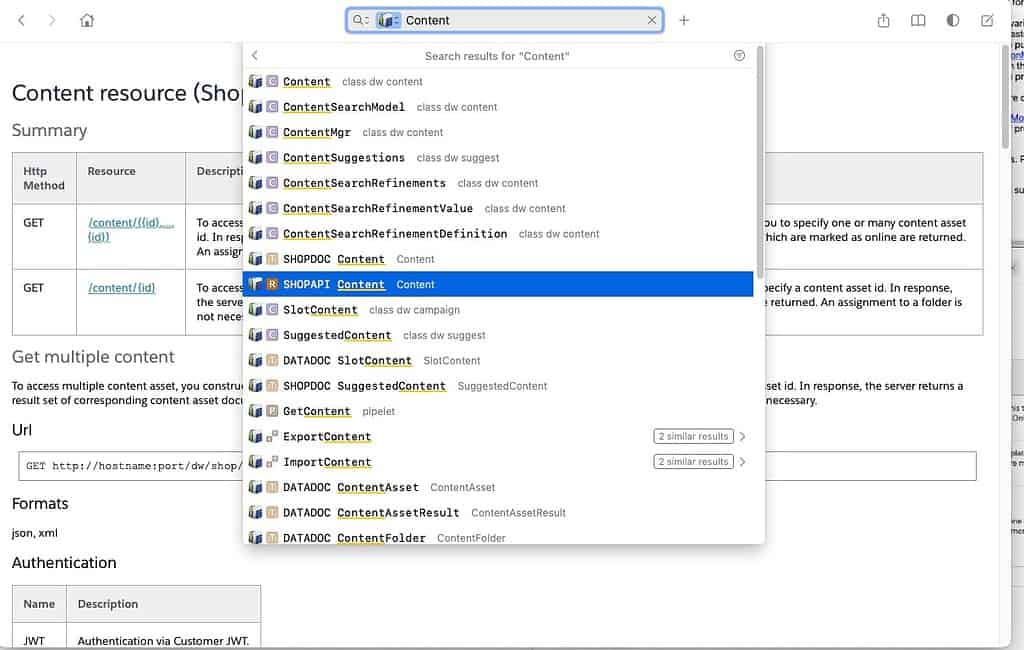 As it stands for me, this change was to be expected. All new documentation was already moved over to these respective platforms (GitHub taken out of the equation), and the Infocenter was the "odd one out".
However, there is still a lot of work to be done, also on my side to get used to all of these new locations. Whether my workflow will improve or worsen is something I can not comment on yet. But we must give feedback via the known channels (such as #documentation and #airing-of-grievences).
Only time will tell! Though I suspect the #airing-of-grievences channel on the Unofficial Slack should be monitored by the Salesforce team.