February is almost here, and so is the February 2023 (23.2) release! If you are an avid user of Page Designer, this is the update you have been waiting for – and Salesforce, keep 'em comin'!
Are you interested in last month's release notes? Click here!
Page Designer Improvements
Improved Page Designer Structure and Usability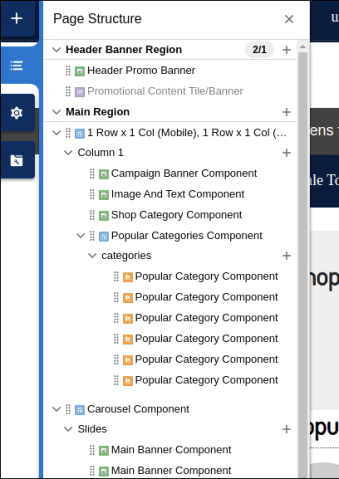 The redesign of the Salesforce Page Designer will be a good improvement. The new asset hierarchy and visual connection between what is selected in the canvas and its location in the page structure will make it much easier to navigate and edit pages. 
Overall, this will be a great step forward in enhancing the user experience.
Move Components in Page Designer More Easily
This update will make Page Designer more user-friendly. The ability to place components with minimal changes to the page structure, clear drop zones, and the component remaining in focus after refreshing the page are all features that will enhance the user's experience with the designer.
UX seems to be "the" recurring theme in this release, which I believe is a welcome focus.
Save and Return to the Same Canvas Location in Page Designer
This feature will likely be met with great relief, particularly for those who have experienced frustration while building large pages with many components.
Guest Basket Lifetime Limit Is Increased
This update increases the lifetime limit from 7 days to 30 days, meaning that guest customers can now have access to their baskets for much longer. This is a huge advantage as it allows anonymous shoppers more time to review their items, make changes, and complete their purchases.
Overall, this update brings many benefits and will significantly enhance the user experience.
Reports and Dashboards for PWA Kit
Starting now, Commerce Cloud Reports and Dashboards work for the Composable Storefront!
Not all reports work yet
Please be aware that a patch is coming in early February to ensure order data makes it to these reports. At the time of writing, 8 out of the 11 dashboards work.
Do More When Calculating VAT
As I am not familiar with Japanese tax law, so it is not something I can go into. But for anyone who has a project active in Japan, I am sure it is a needed improvement.
Fine-Tune Your Site's Regional Settings
A nice improvement for locale management because it gives users complete control over all parameters used for converting numbers and dates into strings with configuration. This is beneficial because it provides more flexibility and precision in formatting numbers and dates according to regional and language-specific standards.
Access Page Designer with SCAPI
The new "Shopper Experience API" is a significant improvement for both Headless and Composable Storefront projects. In the past, solutions required complex workarounds to enable personalisation with session bridging. But this update eliminates the need for those workarounds.
This change is highly anticipated, and I am sure it will be warmly welcomed by many. It brings more efficiency and ease of use to projects in need of the API.
Rate limit increase for GET /customers/*(Shopper-Customers), see Rate Limits.
Security update for SCAPI platform environment.
Maintenance and stability updates for SCAPI platform environment.
Update TrustedAgentOnBehalf support for Shopper Token policy.

Prepare SCAPI platform for future feature enablement.
ForgeRock Identity Platform is an open-source identity management platform that provides authentication, authorisation, and identity management solutions for organisations. It is also a popular choice among financial institutions, healthcare providers, and government agencies to help them comply with industry regulations and standards.
This is also the system behind Account Manager.
Enhanced BOT mitigation strategy within SLAS.
The release log does not provide much more information on what specific actions have been taken to improve security. However, any improvement in security measures is generally welcome in order to better protect against malicious bots.
/jwks endpoint now returns 3 key IDs
Verify Impact
Check if this change impacts any of your projects that use SLAS!
JWKS (JSON Web Key Set) provides a set of keys that includes the current, past, and future public keys. This set of keys allows clients to check the authenticity of a token, called JWT, SLAS issues that for the shopper.
Trusted Agent On Behalf (TAOB) now supports Private ClientID flow, and TAOB JWT token expiry changed from 30 to 15 minutes for PCI compliance.

Reduced the Passwordless OTP – token length from 20 to 8 characters.

Fixed inconsistencies related to failed tokens.

Session Bridge: Improved error messaging & guest support.
SLAS no longer calls ecom, when a shopper account is locked.
User cache refinements & Fixed cache inconsistencies after tenant key rotation.
Addressed login ID inconsistencies for passwordless login.
Fixed AppleIDP issue related to middle name.
Security library updates.
Set Up Payments for Immediate or Future Payment Capture
New functions have been exposed on the SalesforcePaymentRequest:

				
					salesforcePaymentRequest.getCardCaptureAutomatic();
salesforcePaymentRequest.setCardCaptureAutomatic(Boolean);
				
			
Do More When Calculating VAT
New functions are now exposed to work with the new rounding options per group (see the item about Japanese Taxation):

				
					lineItemCtnr.getTaxTotalsPerTaxRate();
lineItemCtnr.isTaxRoundedAtGroup();
basket.isTaxRoundedAtGroup();
order.isTaxRoundedAtGroup()	

				
			
A new preview release of the commerce-sdk-react library is now available on npm and includes ready-made React hooks for fetching data from B2C Commerce.
The release also includes updates to pwa-kit-create-app, pwa-kit-dev, pwa-kit-react-sdk, pwa-kit-runtime, and template-retail-react-app. Some of the changes include adding instanceType to Einstein activity body, logging cid from res header instead of req in local development, and handling variants with Einstein.
The developers of the current release have been unable to catch a bug, much like trying to catch a fly with chopsticks, resulting in no bug fixes included in this version. But we trust they will keep trying to improve the product.
Updated Cartridges & Tools
Composable Storefront Toolkit
A new cartridge has appeared, containing some goodies for the Composable Storefront! As all of these are POCs (Proof of Concept), understand that they still need some polishing.
Salesforce B2C Commerce / Customer 360 Platform Integration (v2.0.0)